Traditionally, organisations use surveys once a year to measure employee engagement. This approach, while familiar, remains problematic, primarily due to the time lapse between the issues to be unravelled and when the employees complete the survey. Especially with engagement surveys, organisations face the secondary problem of what to do with the survey results. While some firms may do little or nothing, others might respond with perks and incentives, checklists for managers, and other organisation-wide initiatives to address the problems. Then there's the long wait before the next survey to discover whether employee engagement has actually improved. With this process repeated over and over, it is easy to see why employees get tired or sceptical of surveys.
Still, surveys have value and can provide great insights when deployed for the right reasons. But the challenges organisations face when it comes to employee engagement require a tad more urgency in execution. According to Gallup Inc., after six months, a whopping 40 per cent of new employees are not engaged at work, with another eight per cent actively disengaged (that's nearly half of new hires). The result is a significant loss in productivity, followed by a cascade of adverse consequences to the employee, their peers, managers and the organisation. Remarkably, most employees (85% globally) fall into the classification of "not engaged", as stated by Gallup in their State of the Global Workplace report, released in 2017.

Harvard Psychologist Susan David, in her introduction of the HBR Guide to Motivating People, writes that despite the billions spent annually to pinpoint the engagement problem using surveys, most strategies and tactics adopted fail to deliver the desired results. This insight identifies a major challenge with engagement execution: designing the right program is difficult, and the tools available to execute it are limited in what they can do to address the issues. In most cases, organisations blindly execute because they lack the insight and tools to effect the necessary change they seek.
The challenges organisations face when it comes to employee engagement require a tad more urgency in execution
A New Framework for Engagement Measurement
We've pondered this question for a while. How can we measure engagement regularly, confidently, accurately and in real-time? Maybe you've considered this yourself but realised that sending out surveys more frequently is not a tenable proposition for your team or organisation. So, if we can't use surveys monthly, weekly or daily, could we obtain this information from employees in some other way?
As employees (including managers) perform and experience work daily, they are, in essence, engaging in work. Let's suppose there was a way to accumulate, classify, and measure all of the vibrancy of work as data points of activity. If that was the case, would we be in a position to capture the key inputs of engagement? Could we then be able to accurately measure engagement in real-time?
We have explored this subject for many years. In the process, these three all-encompassing themes have surfaced from our research and analyses:
Engaged employees are present and involved in work.
Engaged employees are conscious of work expectations and have measurable targets.
Engaged employees receive commensurate recognition.
We use three Ps to represent these themes: Participation, Persuasion, and Praise. These are broad classifications of what happens at work. Of work as work, as fun, as personal.
Participation encapsulates presence, involvement, feedback, and giving. Persuasion means setting clear goals, clarifying, and tracking performance against those goals. Praise covers both the big, but more importantly, the ubiquitous small acts of appreciation in the workplace. Praise is often neglected or given sparingly to be consequential as a motivational tool. And it is hardly measured.
Let me state an obvious observation at this juncture: we note that the focus of many engagement programs is recognition. However, in the absence of the other critical factors and measurements, the programs miss their intended mark and achieve little in the long run.
A Novel Framework for Engagement
By determining the participation score (P1), the persuasion score (P2) and the praise score (P3), we can derive the engagement score (ES) for each participant. Beyond this point, the performance of the immediate team, other teams and the broader organization become apparent, dynamic and comparable.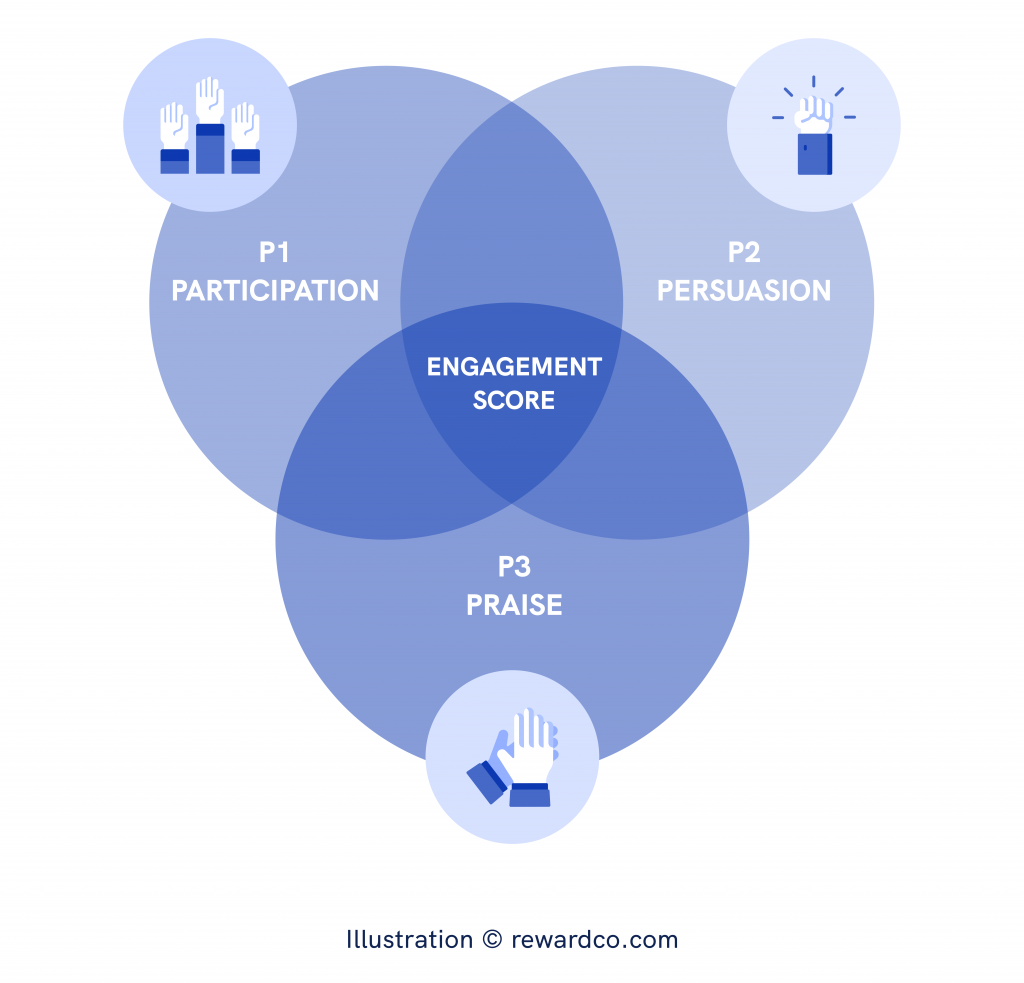 These four elements (P1, P2, P3 and ES) form the backbone of a new workplace engagement framework. We know this deviates from the traditional approaches that have held sway for decades in companies and public, private and government institutions. But the realities of the modern workplace, advances in technology, and generational, ethical, cultural and societal expectations mean that organisations must adapt now to meet contemporary challenges as well as future ones.
As a systems construct, some may see the framework as mostly transactional and quantitative. Engagement, as we know, is a human quality that cannot be contrived or coerced. However, we can describe and capture the efforts required to achieve the qualitative outcomes that help drive engagement in the team individually and collectively. Therefore, measuring the effect using the framework becomes a given.
We have also envisaged the framework as having checks and balances. Attempts to skew it will be noticeable to all since the team owns the program and agrees on the inputs, activities and markers to be tracked. Therefore, the scores generated are transparent and valuable to each member, making intervention immediate when anomalies occur or performance drops markedly.
Achieve a result greater than one, or a few
We should design programs that reflect all the vital aspects of work across the three pillars when gauging the engagement level of each employee. Your celebrated top performer may be doing more harm than good if the basis of selection is solely on their key performance indicators while paying little attention to their overall involvement in the team and their contribution to its motivation and effectiveness. You want a team that's sound in every respect. You want to manage the whole team, not one or a few employees. Your goal is to increase engagement to allow your team to achieve a result greater than one, or a few. We should design work so that it works for every member of the team while shifting the focus of engagement measurement to an all-encompassing framework that addresses the observed shortcomings of current approaches.
What if managers could find a way to measure employee engagement in real-time, and they could access all the tools they need to affect engagement positively? What results would they obtain? Let's explore these in the comments.
---
This article introduces a novel framework for participant engagement pioneered by RewardCo through its Engagement Cloud Software. Visit rewardco.com to find out more about the engagement programs we power.

Want to Contact Us? Follow these links to: